FREE usps Standard SHIPPING FOR ORDERS OVER $75 USING CODE "FREESHIP75" AT CHECKOUT * restrictions may apply
14k Gold-Filled Clutch-Cupid's Garden
SOLD
In this scene, Cupid's Garden, Lam's 14k signature metal lace clutch illustrates cupid and his target, the graceful ballerina, doing a dance in a 3 dimensional, jeweled, and pearl garden with oversized foliage depicted by antique jeweled elements--all anchored by the centerpiece and crown jewel, 87 carats of citrine. 
Each Mindy Lam clutch is one of a kind and cannot be duplicated to be 100% identical due to the nature of handcrafted items as well as each piece uses antique jeweled elements which are usually one of a kind.  
Additional customizations can be requested such as color, and may incur additional costs. Please detail your request in your email and a phone consultation may be scheduled if needed. Photos will be sent during the design of your custom piece once it reaches the stage of color or specific customizations for approval.  Please allow 6-8 weeks for completion of your special piece.
If you are interested in learning more about Cupid's Garden, please email HERE for more information or at kelliec@mindylam.com.
Mindy Lam Signature Metal Lace h

andcrafted from single thread 14k gold-filled wire
Antique jeweled elements

87 carats of citrine

Vintage rhinestones
14k gold-filled leaves handcrafted in-house
Cultured Pearls
Swarovski Pearls
Length - 8"
Interior Bag Width -  3  7/8"
Height - 3"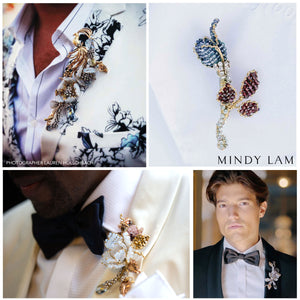 MINDY LAM HOMME
Mindy Lam Homme was designed for impeccably dressed discerning gentlemen, artists, and performers. From the daring sartorialist and classic man to the minimalist who loves subtle finishing touches.
SHOP NOW →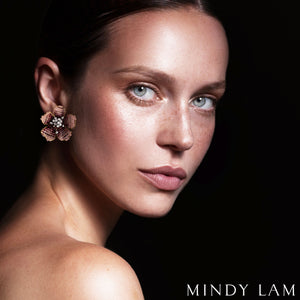 WOMEN'S GIFT GUIDE
Timeless and versatile luxury staples that elevate, reinvent, and bring new life to your existing wardrobe.
SHOP NOW →
Pictures do not do justice to these lapels, they are true works of art.... I opened the boxes and each box that I opened took my breath away. 
F. Bister
I have already purchased 2 of your exquisite pieces already and I am pleased with your level of professionalism and of course the craftsmanship..it is top notch quality and any one wearing your pieces will elicit the highest compliments..looking forward to more purchases.
David H.
I think I am addicted. I am checking the site every day or every other day. Truly beautiful works of art.
M. Scott
I love Mindy's men's lapel pins. You can put them in a lighted curio and use them as beautiful art pieces when you are not wearing them!!
Floyd G.
Slowly but surelyI'm beefing up my collection so my peacock doesn't have to sit alone in my dresser!
D. Suarez
Your pieces are so gorgeous! My husband loved "Golden Tweet!" Which I bought him for his birthday! Just made an order for myself. Looking forward to receiving it!
Cailin M.
I absolutely loved this piece on my husband for our wedding! Unique, whimsical, & beautiful! Thank you so much!
Joselyn T.
ETHEREAL COLLECTION
The jewelry artist loves collecting vintage jewelry herself, often gravitating towards elegant and sometimes even quirky pieces; they are all beautiful to her. Lam is able to transform these forgotten vintage pieces and revive them with new life, filled with sparkles and enchantment, after they go through her eyes, heart, and hands. The Ethereal Collection is a limited series that includes Lam's private collection of the rarest and most ornate vintage jewelry. She is releasing some of her favorite pieces into the world to make room for new loves and inspiration. From one treasure box to another…
SHOP THE COLLECTION →