FREE usps Standard SHIPPING FOR ORDERS OVER $75 USING CODE "FREESHIP75" AT CHECKOUT * restrictions may apply
Ethereal Collection Lapel Pin - Charm of the Golden Daisy
The Golden Daisy is one of a kind, radiating in gold all year round. Creatures in the magical forest believe that long ago, the Grand Eagle saw this barren land and decided to bring a seedling, in hopes of reviving the region. The next spring, the daisy blossomed in gold,  bringing life and color back, as it started to multiply year after year. Today, it is a full meadow, with the same daisy still standing after generations. The creatures of the magical forest see the Golden Daisy has a symbol of resilience and new beginnings.
The Golden Daisy is jeweled centered vintage accompanied by natural green garnet, golden rutilated quartz, smoke topaz and pearls. A stunning 19ct green amethyst stone engulfed in rhinestone and gold vines. The brooch is finished with 14kt gold-filled wire.
Only 1 available. 
Handcrafted in Maryland by Mindy Lam
Dimensions: 5.5" x 2.5"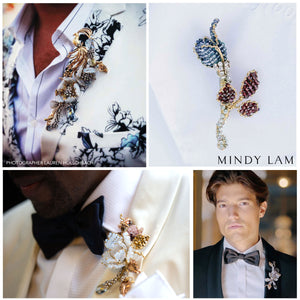 MINDY LAM HOMME
Mindy Lam Homme was designed for impeccably dressed discerning gentlemen, artists, and performers. From the daring sartorialist and classic man to the minimalist who loves subtle finishing touches.
SHOP NOW →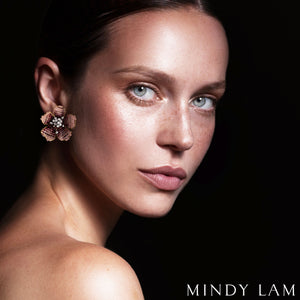 WOMEN'S GIFT GUIDE
Timeless and versatile luxury staples that elevate, reinvent, and bring new life to your existing wardrobe.
SHOP NOW →
Pictures do not do justice to these lapels, they are true works of art.... I opened the boxes and each box that I opened took my breath away. 
F. Bister
I have already purchased 2 of your exquisite pieces already and I am pleased with your level of professionalism and of course the craftsmanship..it is top notch quality and any one wearing your pieces will elicit the highest compliments..looking forward to more purchases.
David H.
I think I am addicted. I am checking the site every day or every other day. Truly beautiful works of art.
M. Scott
I love Mindy's men's lapel pins. You can put them in a lighted curio and use them as beautiful art pieces when you are not wearing them!!
Floyd G.
Slowly but surelyI'm beefing up my collection so my peacock doesn't have to sit alone in my dresser!
D. Suarez
Your pieces are so gorgeous! My husband loved "Golden Tweet!" Which I bought him for his birthday! Just made an order for myself. Looking forward to receiving it!
Cailin M.
I absolutely loved this piece on my husband for our wedding! Unique, whimsical, & beautiful! Thank you so much!
Joselyn T.
ETHEREAL COLLECTION
The jewelry artist loves collecting vintage jewelry herself, often gravitating towards elegant and sometimes even quirky pieces; they are all beautiful to her. Lam is able to transform these forgotten vintage pieces and revive them with new life, filled with sparkles and enchantment, after they go through her eyes, heart, and hands. The Ethereal Collection is a limited series that includes Lam's private collection of the rarest and most ornate vintage jewelry. She is releasing some of her favorite pieces into the world to make room for new loves and inspiration. From one treasure box to another…
SHOP THE COLLECTION →